Through making, we learn invaluable life lessons. We engage in persistent, complex problem-solving. We create solutions to real-world problems, we imagine alternative ways of thinking about our life with technology, and we discover a world of connections.
Education Makers study what people learn and how they develop 21st century skills and competencies in maker-led activities. We work on developing an inclusive, interdisciplinary and intergenerational workshop model with multi-level and complex challenges where collaboration takes its full meaning because working alone is not possible. Here are some examples of projects we are conducting:
We are thrilled to share the #playbook on #makerspaces for #learning #living and #sharing | French and English versions available for free download! https://t.co/xfZu35U7jR | @ecolebranchee @LEARN_Ped @fablab_academie @SaintSacrement @ObservatoireIA https://t.co/0C7cHdx4Cs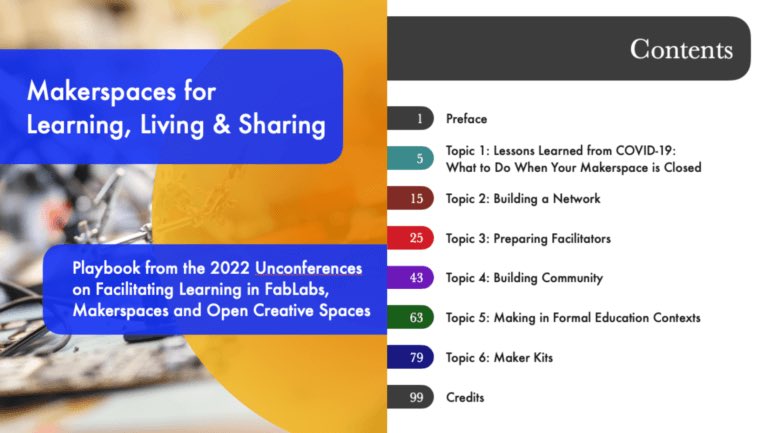 Yes, the cost of living is on the rise, #lettuce is $8 and #butter just went up another .30cents. But, the playbook on #makerspaces we launched today is totally FREE! Download it here: https://t.co/OdrEouk7sH
If you need a copy, DM us! We have a limited number of printed copies!
June

2023

Sun
Mon
Tue
Wed
Thu
Fri
Sat
Davidson, A.-L. (2019). Developing Co-Creativity in Maker Education, 21st Century Competencies in Maker Education and Conclusions of the CreaMaker workshops (in collaboration with B. Lille). In. Romero, M., De Smet, C., David, D., Tali, F. ANR #CreaMaker workshop : co-creativity, robotics and maker education proceedings. Complete proceedings online : https://www.researchgate.net/publication/332383744_Co-creativity_robotics_and_maker_education?fbclid=IwAR2F8yAhXAzX5uZ-in7A7v80jm8Zgd7v-rUXT0YhWvtzjnh8XHs2vGsVcN8
Davidson, A.-L., *Price, D. (2017) Does Your School Have the Maker Fever? –An Experiential Learning Approach To Developing Maker Competencies. LEARNing Landscapes, 11(1), 103-120. [https://www.learninglandscapes.ca/index.php/learnland/article/view/926]
Davidson, A.-L. (2018). How Can Makerspaces Heighten Student Engagement? EdCan Network. Facts on Education. Complete paper online [https://www.edcan.ca/articles/makerspaces-heighten-student-engagement/]
Ruby, I., Davidson, A.-L., Sanabria, J. (2019). What do learners and facilitators learn from an innovation challenge? Bold Educators Activate Change, ISTE 2019. June 23-26, Philadelphia, Pensylvania.
Davidson, A.-L., Naffi, N., Duponsel, N. (2018). La facilitation dans les activités de type « maker » ou les structures rhizomatiques dans l'apprentissage. Centre interuniversitaire de recherche sur les technologies en education (CIRTA). October 11-12, Québec, Québec.
Davidson, A.-L., Cucinelli, G., Price, D., Naffi, N., Ruby, I., Matheson, T., Duponsel, N., Romero, M., van Oostveen, R. Light, E. (2017). Exploring the movement of "maker culture" in education. CSSE, May 27-June, Toronto, Canada.